Sherm's
Recipes
https://www.shermsmarkets.com/Recipes/Detail/7324/Turkey_Meatloaf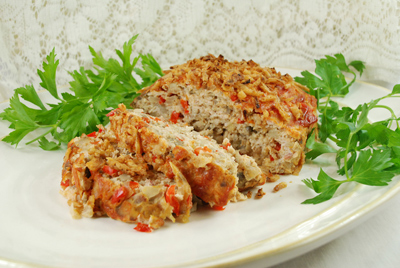 Turkey Meatloaf
Yield: 8 servings
Ingredients
1/4
cup

milk

3
slices

wheat Bread

2
teaspoons

olive oil

1
package

(8 ounce) fresh mushrooms, coarsely chopped

1

onion, finely chopped

1

red bell pepper, finely chopped

1/2
teaspoon

salt, divided

1
package

(20 ounce) ground turkey

1/2
cup

(2 ounces) shredded parmesan cheese

4
slices

bacon, coarsely chopped

1/4
cup

whole wheat bread crumbs

1

large egg, lightly beaten

1/4
cup

ketchup

1
tablespoon

brown mustard

2
tablespoons

French Fried onion
Directions:
Preheat the oven to 350 degrees F

Line a broiler pan with foil and lightly spray with nonstick spray.

Combine the milk and bread in a large bowl; let stand for 10 minutes to soften.

Heat the oil in a large nonstick skillet over medium-high heat. Add the mushrooms, onions, pepper and 1/4 tsp salt; cook,stirring occasionally, until the vegetables are very tender, 5 to 7 minutes. Remove from heat; let cool slightly.

Add the mushroom mixture, turkey, cheese, bacon, bread crumbs, egg and remaining 3/4 tsp salt to the bread mixture. Toss gently to combine.

In a small bowl, combine the ketchup and mustard. Stir 1/4 cup of the ketchup mixture into the meat mixture. Shape into a loaf and place on the pan.

Spread remaining ketchup mixture over the loaf. Bake for 40 minutes.

Remove from oven and top with fried onions. Bake 10 to 15 minutes longer or until an instant read thermometer inserted into the center of the loaf registers 160 degrees F. Let stand 10 minutes before slicing and serving.
Photo and food styling by Webstop
Please note that some ingredients and brands may not be available in every store.
Sherm's
Recipes
https://www.shermsmarkets.com/Recipes/Detail/7324/