Sherm's
Recipes
https://www.shermsmarkets.com/Recipes/Detail/7273/Alaska_Seafood_Cioppino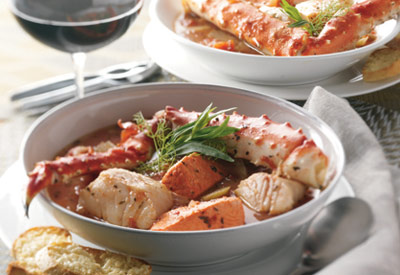 Alaska Seafood Cioppino
Yield: 4 servings
Preparation Time: 10 min; Cook Time: 25 min
Ingredients
1
Tablespoon

olive oil

3/4
cup

chopped onion

1
cup

sliced celery

1
cup

sliced fennel

2
cloves

garlic, minced

1
teaspoon

dried basil

1/2
teaspoon

dried tarragon

1/4
teaspoon

red pepper flakes

1/4
teaspoon

black pepper

1
slice

bacon, sliced finely

2
bottles

(8 ounce each) clam juice

1
can

(28 ounce) diced tomatoes in juice

1/4
cup

red wine (Cabernet or Pinot Noir)

1
pound

(at least 4 legs) of your favorite Alaska Crab (King, Snow or Dungeness)

1
pound

Alaska cod, halibut, pollock, salmon or sole - fresh, thawed or frozen
Directions:
Heat olive oil in heavy stockpot. Saute onion, celery and fennel over medium heat until softened, about 5 minutes.

Add garlic, basil, tarragon, red pepper flakes, pepper and bacon; saute for 3 to 5 minutes.

Add clam juice, tomatoes and wine; simmer 10 minutes.

Rinse any ice glaze from frozen Alaska Seafood under cold water. Turn off heat and add seafood to liquid, skin side down. Return heat to a simmer.

Once simmering, cover pan and cook 4 to 5 minutes for frozen seafood or 2 minutes for fresh/thawed fish. Turn off heat and let seafood rest 5 minutes or until opaque throughout. To serve, ladle into warm soup bowls.
Recipes and Images provided by Alaska Seafood
Please note that some ingredients and brands may not be available in every store.
Sherm's
Recipes
https://www.shermsmarkets.com/Recipes/Detail/7273/Alaska_Seafood_Cioppino